I like big DICKS and I cannot lie! Lol, I'm not sure how this recent obsession with stuffing bigger and bigger things up ass started.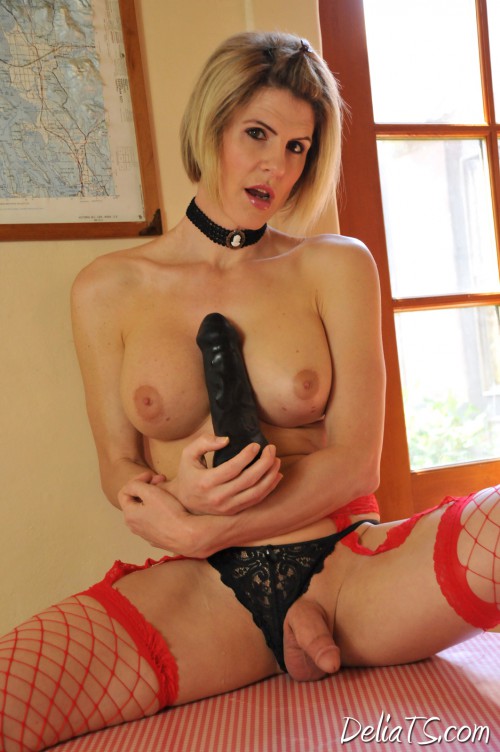 Perhaps shooting more hardcore with guys who have larger to monster sized cocks. Who knows. But I DO know that I sure like my new toy!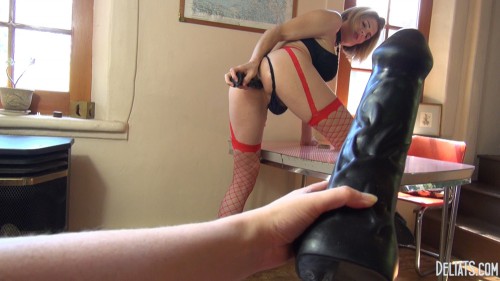 I'm not saying I would like to get fucked hard by monster sized cocks all the time but every now and then it's pretty awesome! It's that feeling of being stretched out and filled up that really gets me hot.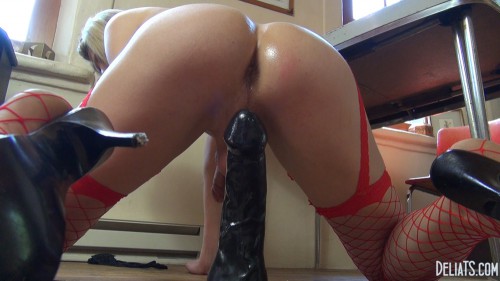 Having this huge toy inside of me and rubbing against my prostate always sends me over the edge!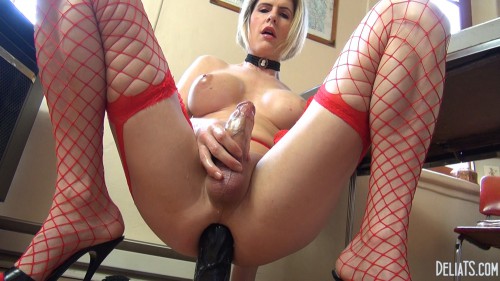 One thing I noticed is that while I cum harder with it stuffed inside of me, my loads are a little smaller. I'm not sure why that is.
JOIN NOW to see the full 21 + minute video of me fucking this ENORMOUS toy!!!
There have been a few firsts for me as far as shooting and producing porn that I neglected to write about when they happened and that I've been thinking a lot about lately. One of them is working with Chance Armstrong.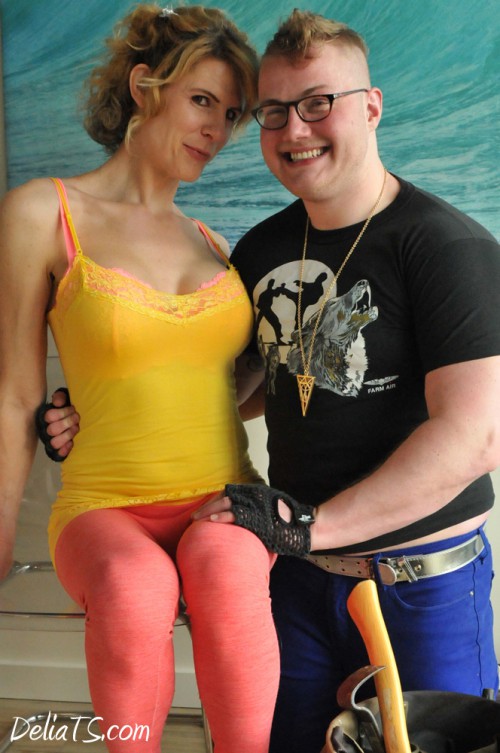 I first met Chance down in L.A. at the Tranny Awards (recently renamed the Transgender Erotica Awards (TEA)). He has an amazing smile and a charming personality. He is also tall, big and hairy! All things that I love in men. As we began chatting I found out that he was living in Olympia, WA and going to school at my alma mater, The Evergreen State College. We had a pretty light, flirty conversation as I remember it at the after party. We talked about the possibility of shooting together in Seattle and a bit about the budget challenges for small independents like myself.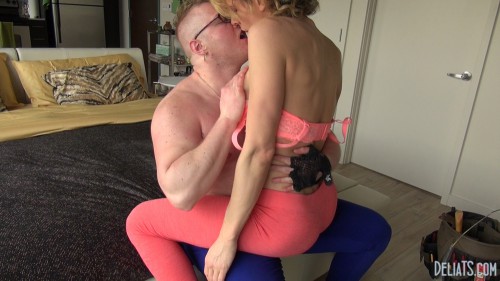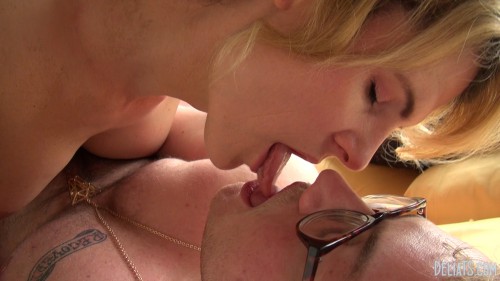 JOIN MY SITE NOW to see the full 39+ min scene in HD and all my other pictures and videos.
Just want to see this scene? Download it now on our CLIP SITE!
Once back in Washington we stayed in contact and I began developing a crush on him. What I really wanted was to get him up to Seattle and have him all to myself for some off camera fun! That plan never panned out but I WAS able to pull enough resources together for us to do a scene for my site.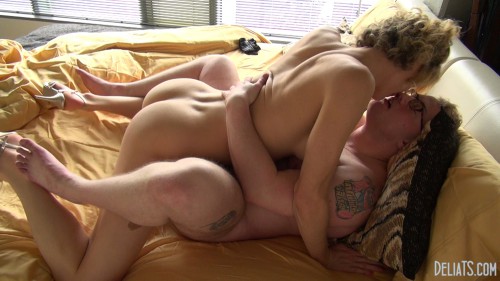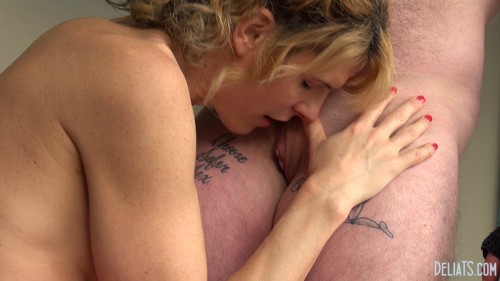 I've never had sex with a trans man before so I'll admit I was a little nervous going into this scene. Seeing Chance's smile soon put at ease though and I knew we were going to have a lot of fun shooting together!
We set the scene up as a hot horny cougar (me!) calling a strong, young, eager to please handyman (Chance) over to "fix" a few things for her. Just doing the intro turned out being really fun and helped ease any tension I was feeling as well.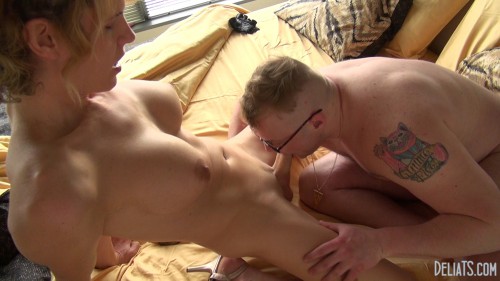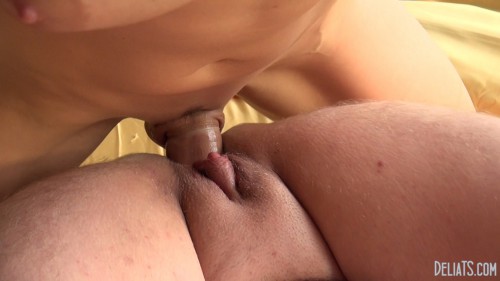 JOIN MY SITE NOW to see the full 39+ min scene in HD and all my other pictures and videos.
Just want to see this scene? Download it now on our CLIP SITE!
I've had a lot of requests to see me topping a guy and I wanted my first scene to be special. When I found out that Chance was a bottom I knew it would make for an awesome scene. More importantly though I knew that our chemistry would be great together. It turns out I was right! The scene has some pretty hard fucking but also some really sweet moments. Chance is a really good kisser which gets me every time!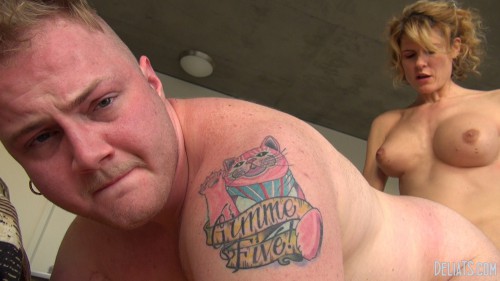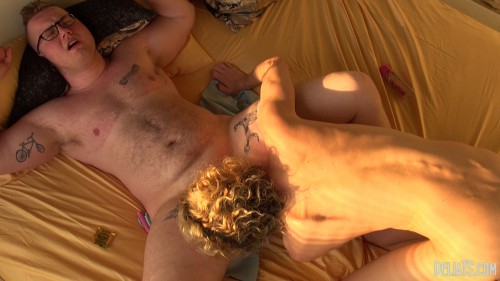 I feel really proud of this scene. I think we got a lot of things right. I know not all of my fans will be into it but you can't please everyone all the time. There is something beautiful and unique captured in this 39+ min scene. Seeing mtf and ftm trans bodies entwined together is beautiful and unique. Chance's body and my body are beautiful and unique. The way our particular bodies fit together is beautiful and unique. The way the Seattle winter sun kissed our bodies while were shooting was beautiful and unique. And the way that Trixie captured it all was beautiful and unique.
I'm a little sad that Chance has moved down to the Oakland area but I'm really happy we were able to connect and make some porn together while he was in the area.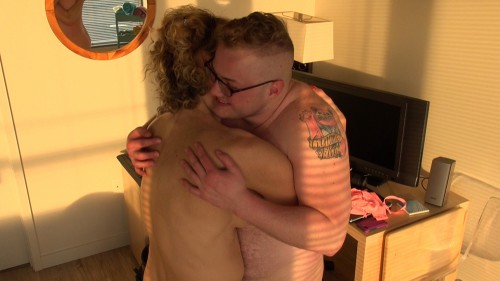 JOIN MY SITE NOW to see the full 39+ min scene in HD and all my other pictures and videos.
Just want to see this scene? Download it now on our CLIP SITE!
I just got back from a (mostly) successful trip to Las Vegas!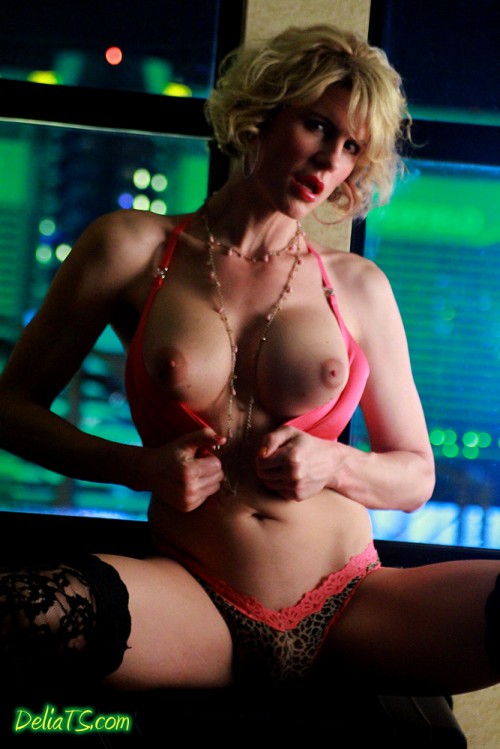 I had a generous offer from Josh Stone to come down and shoot a couple scenes for Trans500.com . I was really excited to shoot for him, unfortunately I had some clotting in my blood sample so my STD test was messed up and I couldn't get results from a re-test before the scheduled hardcore scene for TSGirlfriendExperience.com. I ended up doing a scene with condoms for I Kill It TS instead. That Ramon has one monster cock! It's the biggest cock I've ever had inside me that's for sure. It turned out to be a pretty fun scene. I now understand the appeal of BIG cocks and think I may be becoming something of a size queen myself!

The additional solo scene that I was supposed to do got cancelled because of issues with the scene that was scheduled earlier that day. I really liked working with Josh though. He's a good guy and even though he was having a rough time shooting in Vegas he didn't freak out like I probably would have. I would definitely work for him again if I ever have the chance.
I did finally get my test done, though the phlembotonist in Vegas said that my blood was coagulating as soon as it entered the vial. He switched out vials and the second set seemed to be okay. It was a little worrisome and I am going to get into a doctor soon to have it checked out.
The rest of the trip ended up being really productive. I scheduled a few content trades (none of the models get paid, instead we each get a copy of the content to use and we split the cost of the photographer/videographer) with Christian and Tyra Scott. I did a scene with each of them individually and we did a threesome scene together. I also spent a day shooting solo content with Damien Cain. Loads of really hot content!!! Damien did an awesome job capturing it all!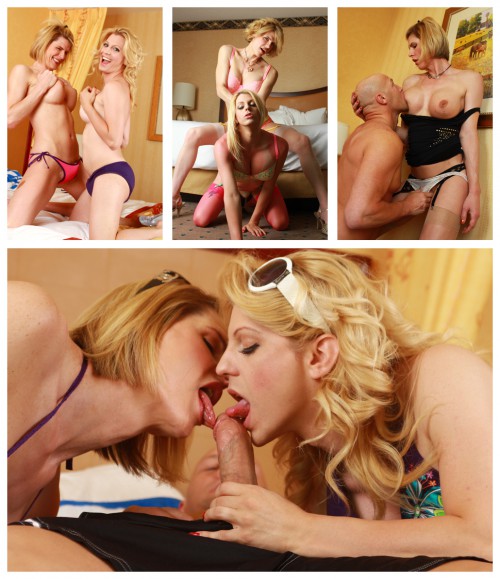 It's been a long time since I've been this far ahead on content. I LOVE being in the position to able shoot at home (or outside locally) with Trixie on more of a "spur of the moment/when inspiration hits" basis and not feeling like I HAVE to shoot just for the sake of posting an update.
***
My first scene for TS Playground is being released soon and looky who made the DVD cover (face framed nicely between two gaping assholes)!
I've seen the full scene and am thrilled to be posting it in my members area next week! It's a 57+ min scene and the majority of the first half is just Maia Davis and me. Christian joins the fun half way through and gives us both a thorough pounding! It's a raunchy scene (in true Jay Sin fashion) with lot's of gaping, rimming, spitting, ass to mouth and cum swapping. Just the kind of filthy hardcore scene some of you have been wanting to see me in for years!

VIEW THE TRAILER HERE
People often ask me (mostly on
cam
) if I am a
porn star
and I never know quite how to answer that. Since most of my work has been internet based and "amateur" I've always shied away from the term. But I have in fact been nominated for an AVN award (2013 – Best Transsexual Scene), appeared on 3 DVD covers (Shemale Strokers 47, 51 (also nominated for an AVN) and 61). That, coupled with all the work I do for
my site
would be enough for most people to consider me a porn star. Still, I've always felt a little funny about it. I think this being my first hardcore scene since transitioning with a big time LA porn production company makes me feel a little more legit and comfortable in embracing my porn star status though.
I'm pretty excited to be adding more hardcore scenes with guys into my members only area. Including this hot scene that I shot with Christian while I was in LA for the Tranny Awards: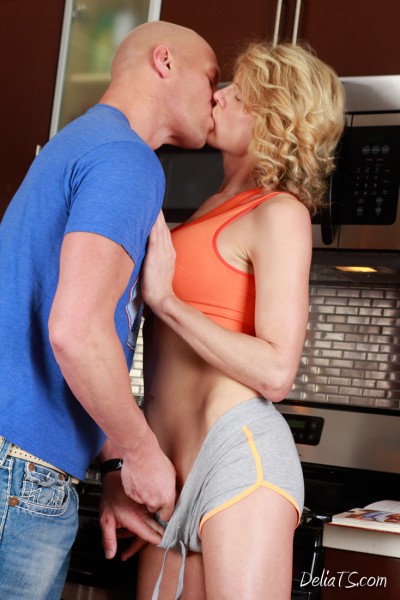 The full set of 180 Pictures (1600 pixels on the long side)
is available now in my Members Only area!
I was super excited to shoot with Christian again! I feel like we have awesome chemistry and I love the way our bodies look together. I am 6 feet tall and have a pretty athletic build so to have to stand on my tippy toes to kiss someone AND to have someone be able to pick me up is a real turn on!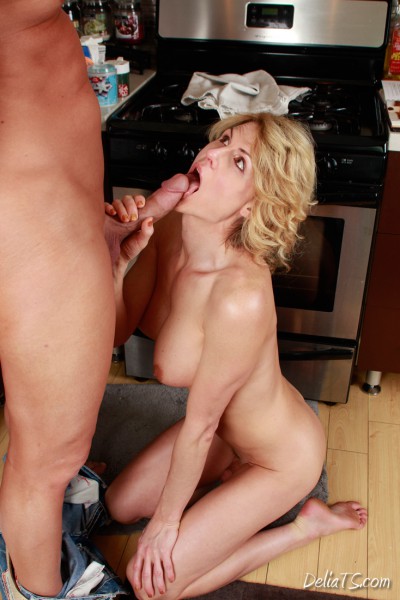 Not to mention his fabulous cock!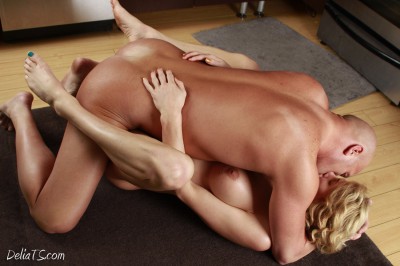 We had discussed a few different scenarios for our scene together. As it turns out though he had another idea that morning so when I arrived everything was set up in the kitchen for a sexy little scene that I'm calling "Cooking with Christian".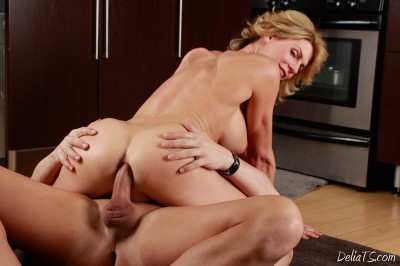 It was a fun little set up that quickly lead to us getting naked and taking turns sucking each other then Christian basically fucking me silly culminating with both of us taking turns cumming laying on the kitchen floor.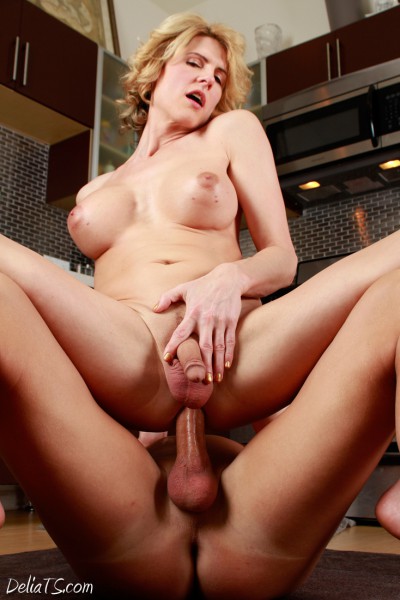 I will be posting the super hot video in my Members-Only area later this week!
I've chatted a bit with Christian about going down to LA for a week or so and shooting more hardcore scenes with him and others. Right now I don't have the budget for it BUT if I can get 100 new sign-ups I'll be able to make it happen before summer!!! Can you imagine what kind of hot porn we could make on a trip like that?
If you're excited about seeing more of what Christian and I could cook up together with more time, be sure to JOIN my site and help make it happen!!! AND see this video as soon as soon as I post it this week!

*****
We resurrected our pink tree this year to create a little holiday magic in our Seattle apartment. I actually had a lot of fun setting it up and decorating while listening to cheesy Christmas music. Here's little teaser from the cute video that I'm posting today:
To see the full 13+ minute 1280×720 HD Christmas Special video
and high-res picture set JOIN NOW!!!
Here's a few pictures from the photo set as well. I love the green stockings!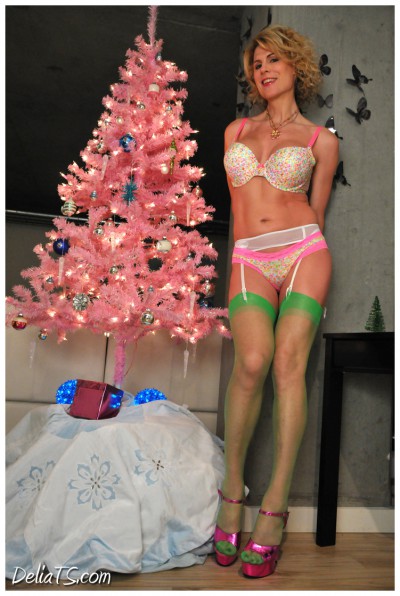 Merry ChristmASS!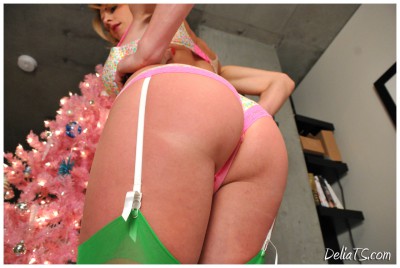 Hope you all have some nice packages under the tree!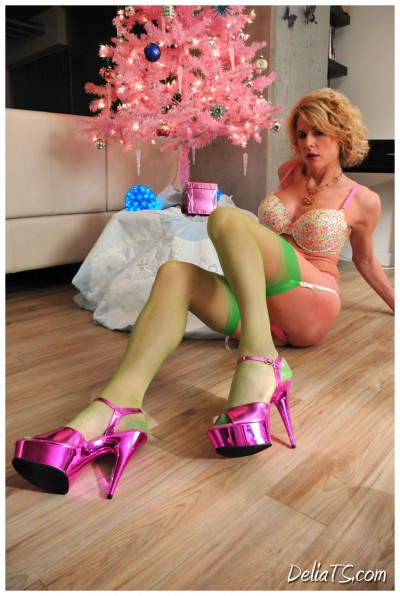 This year we're spending Christmas with Trixie's family. You never know how holidays with Trixie and her family will go. I have learned to hope for the best and not be shocked if it falls somewhere short of that.

However it turns out I know that I will be with loved ones and try to do my part in making the season a little brighter! Peace, JOY & Love.