My first scene for TS Playground is being released soon and looky who made the DVD cover (face framed nicely between two gaping assholes)!
I've seen the full scene and am thrilled to be posting it in my members area next week! It's a 57+ min scene and the majority of the first half is just Maia Davis and me. Christian joins the fun half way through and gives us both a thorough pounding! It's a raunchy scene (in true Jay Sin fashion) with lot's of gaping, rimming, spitting, ass to mouth and cum swapping. Just the kind of filthy hardcore scene some of you have been wanting to see me in for years!

VIEW THE TRAILER HERE
People often ask me (mostly on
cam
) if I am a
porn star
and I never know quite how to answer that. Since most of my work has been internet based and "amateur" I've always shied away from the term. But I have in fact been nominated for an AVN award (2013 – Best Transsexual Scene), appeared on 3 DVD covers (Shemale Strokers 47, 51 (also nominated for an AVN) and 61). That, coupled with all the work I do for
my site
would be enough for most people to consider me a porn star. Still, I've always felt a little funny about it. I think this being my first hardcore scene since transitioning with a big time LA porn production company makes me feel a little more legit and comfortable in embracing my porn star status though.
I'm pretty excited to be adding more hardcore scenes with guys into my members only area. Including this hot scene that I shot with Christian while I was in LA for the Tranny Awards: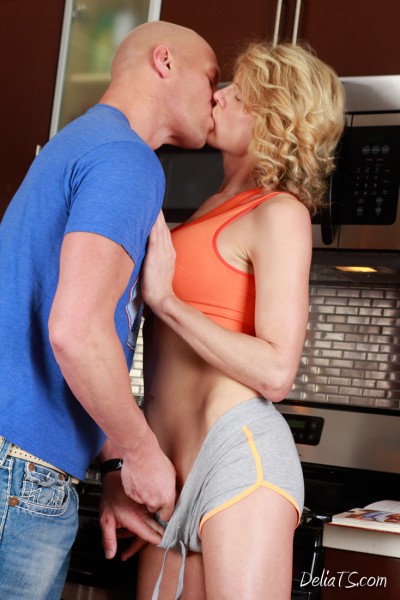 The full set of 180 Pictures (1600 pixels on the long side)
is available now in my Members Only area!
I was super excited to shoot with Christian again! I feel like we have awesome chemistry and I love the way our bodies look together. I am 6 feet tall and have a pretty athletic build so to have to stand on my tippy toes to kiss someone AND to have someone be able to pick me up is a real turn on!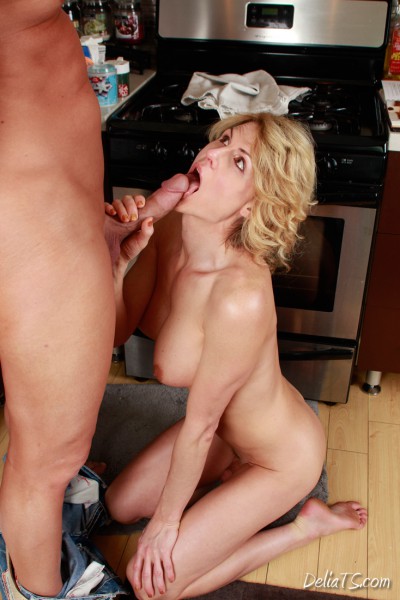 Not to mention his fabulous cock!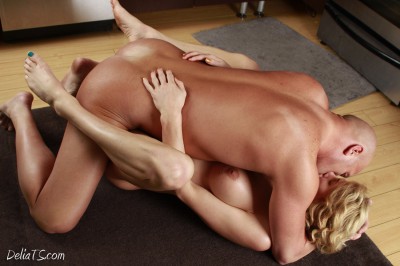 We had discussed a few different scenarios for our scene together. As it turns out though he had another idea that morning so when I arrived everything was set up in the kitchen for a sexy little scene that I'm calling "Cooking with Christian".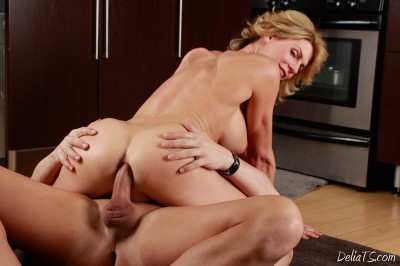 It was a fun little set up that quickly lead to us getting naked and taking turns sucking each other then Christian basically fucking me silly culminating with both of us taking turns cumming laying on the kitchen floor.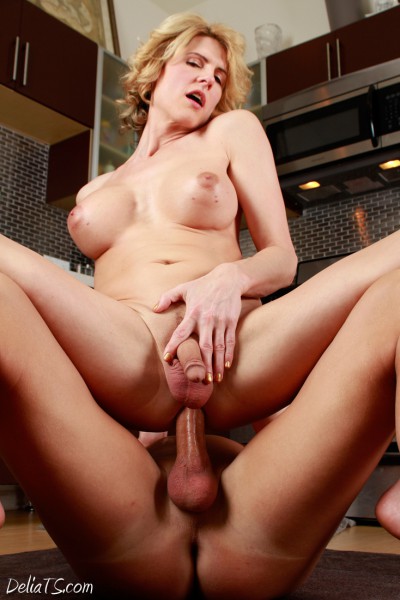 I will be posting the super hot video in my Members-Only area later this week!
I've chatted a bit with Christian about going down to LA for a week or so and shooting more hardcore scenes with him and others. Right now I don't have the budget for it BUT if I can get 100 new sign-ups I'll be able to make it happen before summer!!! Can you imagine what kind of hot porn we could make on a trip like that?
If you're excited about seeing more of what Christian and I could cook up together with more time, be sure to JOIN my site and help make it happen!!! AND see this video as soon as soon as I post it this week!

*****
We resurrected our pink tree this year to create a little holiday magic in our Seattle apartment. I actually had a lot of fun setting it up and decorating while listening to cheesy Christmas music. Here's little teaser from the cute video that I'm posting today:
To see the full 13+ minute 1280×720 HD Christmas Special video
and high-res picture set JOIN NOW!!!
Here's a few pictures from the photo set as well. I love the green stockings!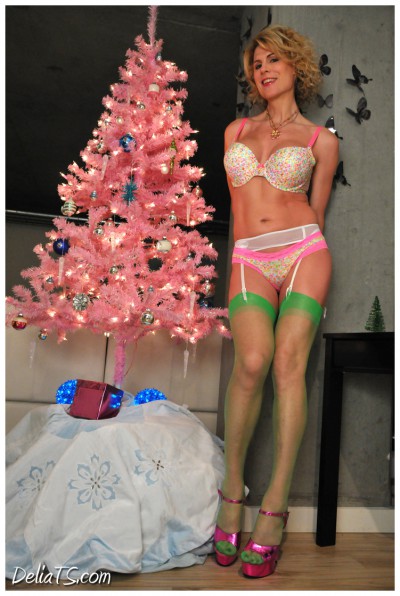 Merry ChristmASS!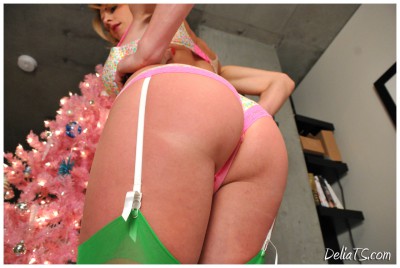 Hope you all have some nice packages under the tree!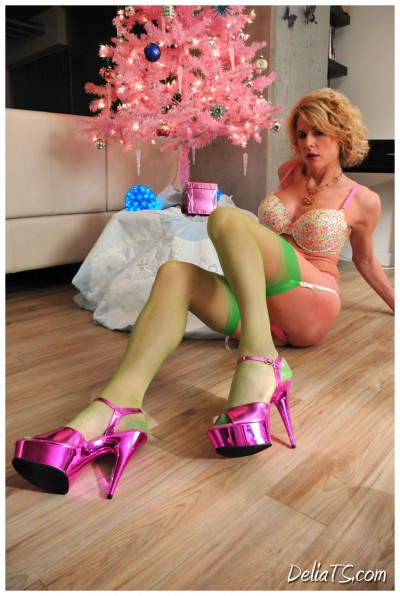 This year we're spending Christmas with Trixie's family. You never know how holidays with Trixie and her family will go. I have learned to hope for the best and not be shocked if it falls somewhere short of that.

However it turns out I know that I will be with loved ones and try to do my part in making the season a little brighter! Peace, JOY & Love.
Toward the end of October I got an interesting email from Jay Sin from Evil Angel Films and director of the popular TS Playground series.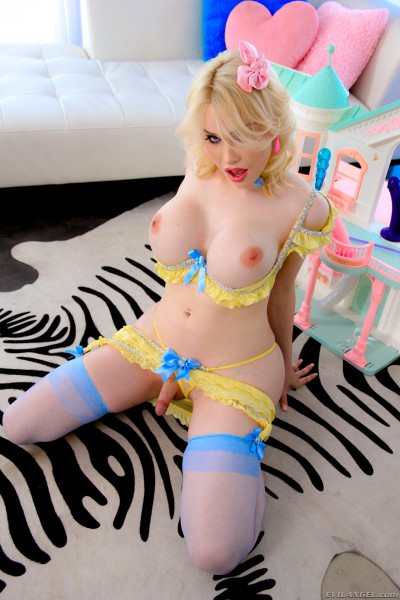 He wanted to know if I would be interested in coming down to LA to shoot 2 scenes, one ts-ts-boy and one ts-boy-girl.
This is the first time I've ever been approached to shoot hardcore for a big name label so that in and of itself was exciting to me. When I saw that his offer included the right to use the scenes in my members area I was pretty much sold!
I've always heard good things about Jay and LOVE some of the scenes that he has done in the past. So that also made the decision a lot easier. Before I knew it I was going in for testing and on a flight to LA.
I've shot for a few different sites periodically over the years. The only site other than my own that I've shot multiple times with is Shemale Strokers, including this solo scene that just went up:
This trip to LA was by far the best experience I've had working with another company. Both days of shooting were well organized. Jay personally drove me back and forth from shoots and made sure I had everything I needed. The other talent, including Sienna Grace, Maia Davis, and Christian all showed up on time and ready to work. The locations were all top notch LA porn pads; swanky, pretty, and clean.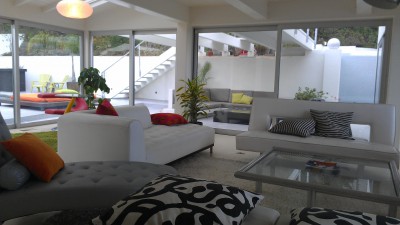 I was super nervous the first day of shooting. My flight was delayed so I didn't get in until later and slept like shit. So even though I think it will end up being a pretty hot scene, I was feeling a little out of sorts. The second day of shooting went much better for me AND I finally got fucked by Christian, who sweet talked me the whole scene

I think the second scene will be the hotter of the two.
I'm not sure when everything will be edited and available for me to post. I think the first scene should be ready by the end of the month and the 2nd scene in late January or February. You can be sure that I will let you all know when it does go up though!
==========
Oh, hey! How cool is this – DeliaTS.com was NOMINATED FOR AN XBIZ AWARD this year! I was shocked and honored to have gotten the nod. It's pretty tough competition but, as always, I'm hoping for the best!
I didn't really have a plan for a Halloween shoot this year but really wanted to pull something together. My inspiration came kind of at the last minute NOT in a Halloween shoot but in a Dia de los Muertos (Day of the Dead) shoot!

JOIN NOW to see the full 214 picture set!!!
Even though it was a little last minute I thought this sugar skull make up turned out pretty cool. The white face paint was kind of cheap and not very easy to get on nice and even so the fade out along my neck and chest turned out a little blotchy. I had a lot of fun with it though.
I've never actually participated in a Dia de los Muertos celebration (Nov 1st & 2nd) but would love to some day. I think it is such a beautiful way to honor and celebrate the lives of loved ones that have passed. If I ever make a trip to Mexico this time of the year is probably when I would want to go. It won't be this year though. More on that later . . .