Sunday Night SPECIAL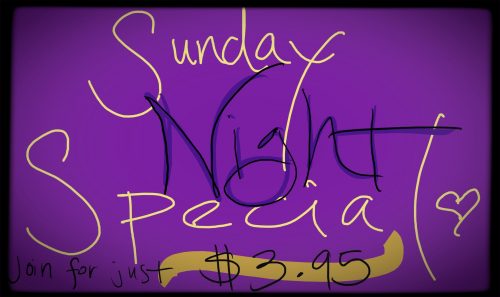 Are you up late at night? Alone on the weekends?
We're starting to run flash sales especially for people like you!
We want to offer special prices every so often to people like us who often stay home alone on Friday night and Saturday night and enjoy healthy solo pleasure. People who are night owls and find themselves awake in the middle of the night when all the regular people are asleep, out doing extrovert things … or — like tonight — getting ready for another Monday morning. Orgasms are a great sedative to help fall asleep on Sunday nights!
We'll pop up these specials every so often on weekend nights, and usually announce them on twitter when they go live. And we'll take them down quietly before we go to bed; you never know when they might happen or how long they'll last.
JOIN FOR ONLY $3.95 NOW >>>> SUNDAY NIGHT SPECIAL
---
Of course, we are really super duper happy if you can join at a regular price ANY time! 😉 This is really a special invitation for folks who may have a hard time when social people are out or with somebody, and/or can't otherwise afford a membership.