To Get In Touch …
I love hearing from people who've been positively influenced by my web presence, whether that means you had a giant orgasm looking at my pictures or you feel a little more hopeful about your own gender identity or sexuality after reading my blog.

Other great ways to communicate with me are to comment on my blog if you have something to say or share in response to what I post, fill out our new member questionnaire, or get a live webcam show with me.
You can also contact me the old-fashioned way via snail mail; I love reading letters: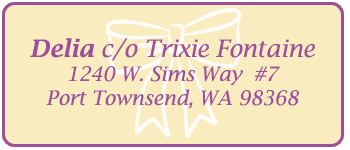 Over the years, many of your personal thoughts, stories, wishes, gifts and sentiments of appreciation have let me know what I share online as Delia is valuable and positive, and encourages me to keep doing and sharing what I do, and make it even better. Thank you!
Note: between making new porn for our members, camming, maintaining my website, doing in-person work, and traveling to make mainstream porn I work overtime every week so I can't respond to every email or even then, to do so quickly, so keep that in mind when you email (and let me know you're a member & what your username is; I usually respond to members first).
If you're a member in need of immediate help, please contact CCBill (our payment processor). Their customer support is available 24/7.
Regarding snail mail: YES, gifts are welcome in my box (see wishlist page for more information) and much appreciated!
Please note that we canNOT accept: personal checks or money orders via mail with requests for dvd's, 8x10 photos (signed or unsigned, with or without SASE), panties, etc. If we're able to hire an assistant someday, then I may be able to sell these things. Until then, YOU WILL NOT GET A RESPONSE OR HAVE YOUR ITEMS RETURNED IF YOU SEND THESE THINGS, OR MONEY FOR THINGS I DO NOT AND NEVER SAID ARE OFFERED, EITHER FOR FREE OR FOR SALE.