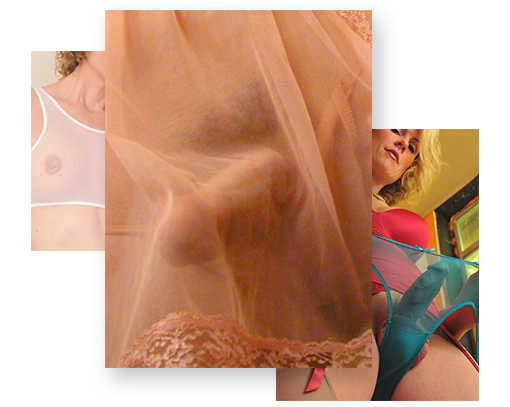 SHEER & SEE THROUGH
Love see-through fabric? ME TOO! Let me tease you with glimpses of my big veiny clit, nipples, and sweet hole through an erotic gauzey haze.
Wearing something you can scarcely see is sooooo much sexier than wearing nothing at all, the seams outlining the forms of curves and erections … soft delicate colors the only barrier between my body and yours.
Sheer stockings & legwear aren't my only see-through specialties; it's such a turn-on to wear and show off my body in delicate sheer panties, chemises in semi-transparent fabrics and almost-invisible clothing … like hot breath and whispers touching my sensitive skin.
Look at my big tits and she-cock through my barely-there slips and sexy underthings …
STROKE YOURSELF WITH ME watching my femrod in feminine underwear!