Here's a few pictures from the Tranny Awards presentation (thanks Willie!):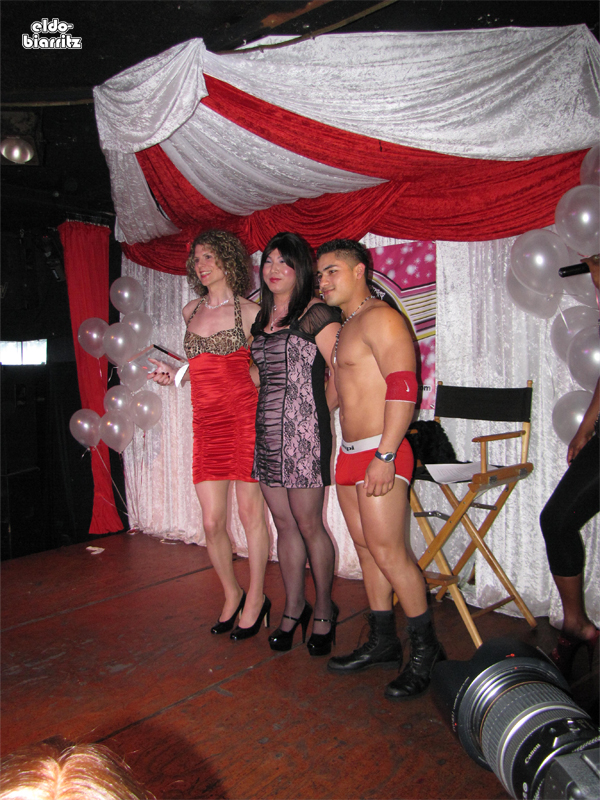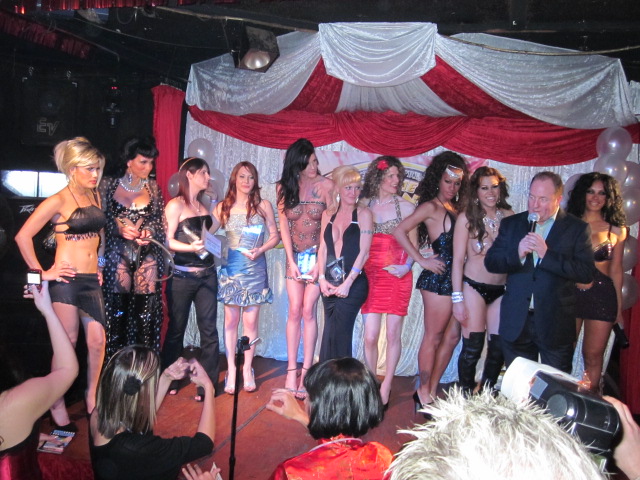 So this is a little bit of a recap of the evening. It started with a red carpet interview with sexy porn superstar Danielle Foxxx. I admit I felt pretty intimidated seeing the set up in front of the club when I first drove by. But once I got my nerve up and started talking with her I felt a little more at ease.
Overall it was a pretty fun night. Krissy ended up presenting me the award and gave a really gracious and warm introduction. I thought of a lot of things that I wanted to say but blanked out once I was on stage and basically just thanked Trixie for all the hard work she puts into our sites. Let's just say public speaking is not really my forte. I had a nice time hanging out with Krissy. She's one of the people I've been wanting to meet in real life for a long time.
There were so many beautiful woman there and some pretty sexy guys as well. I think I could have sat and people watched all night long. Unfortunately I was pretty tired from doing an early shoot and not really working at maximum capacity. I'm kind of socially retarded as it is so I didn't get to introduce myself to a lot of the girls that I would liked to have met. The music was so loud that I was having problems hearing what people were saying anyway.
I did get to talk with Mandy briefly and say hi to her mischievous friend Kimberly Kills, who has really been grabbing the ts porn scene by the balls lately. Felicia Katt was kind enough to introduce herself and point out a few people to me. I also had a nice chat with Aly Sinclair who was mercilessly cock teasing some poor cute boy. She was also generous enough to extend an invitation for after party festivities. But, as I mentioned, I was pretty beat by that time. I think I said a quick hi to Britney Markham and Jesse Flores, bumped butts with Kinky Kennedy Logan and Natalia Coxx, and watched Morgan Bailey do some creative accessorizing with glow sticks.
Standing on stage next to Olivia Love is something I will remember and cherish forever. She is such a classy lady, incredibly beautiful and sexy. The work she has done in transsexual porn will be remembered and jerked to for years to come. Personally I hope she decides to continue working for my own selfish reasons.
On the other end of the spectrum it was sweet to share the stage with the up and coming Amy Daly though I didn't really get a chance to say hello. I loved her half cocked acceptance speech complete with a double finger salute! That had me grinning from ear to ear. And Hazel Tucker just has an aura about her that glows with sweetness. I didn't get a chance to say hi, but I think she caught me making googly eyes at her a few times.
It was nice to meet some of the Grooby family as well – Owner Steve Gallon, P.K. Vegas, Buddy Wood – all were really friendly and had nice things to say.
I think my favorite part of the evening though was just meeting fans. It's so rare that I really meet anyone who has seen any of my work. So to have people recognize me and come up and say that I really deserve the award or they love what I do face to face really meant a lot to me.
So many people and so little time. I would like to once again extend a congratulation to all the award winners and to Grooby for pulling off a fabulous evening! I hope next year is even bigger and better!!!