I thought I would just show off my long legs, shiny shoes and ass for you in this video but Trixie had other plans. 😉 I love getting fucked standing up sometimes, the problem is most guys aren't tall enough to really get the job done. I have to rely on other methods to fulfill my fantasies every now and then. In this video Trixie gives me just the right tool and guidance to properly get myself off for you!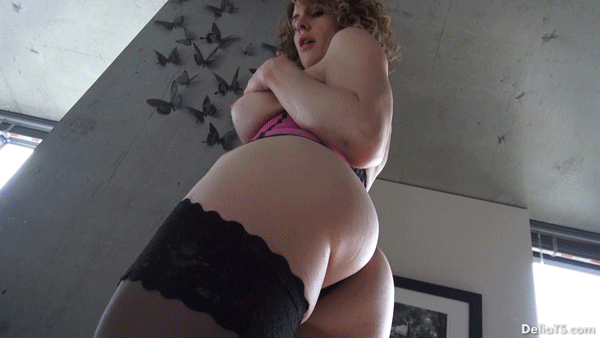 Notes from my wife: "It was a hot wet shoot and I couldn't resist talking dirty to Delia. This might be the FIRST time we've shot her fucking a big toy stuck against a vertical surface like a wall (in this case, a cement column in our apartment). My wife looks so sexy in her shiny platform high heels, black thigh highs, tiny little black panties and hot pink rubber waist cincher. Wearing all of that slutty stuff, knowing how good she looks and feels, playing with this fat purple toy with its big balls is such a turn-on to both of us … and knowing you're going to watch and play along with us and cum to it too!" – Trixie
For Members
TEN MINUTES
WMV & MP4 :: HD & Mobile sizes
WATCH NOW
GET YOUR LOGIN
Become a member for instant access!
DeliaTS PLUS TastyTrixie & friends
JOIN NOW