Gift Certificates:
Email gift certificates
or send via snail mail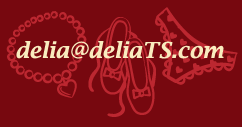 You can also buy things from:
You can also send me things the "old fashioned" way, straight to our mailbox.
My sizes seem to vary a bit from one thing to the next, but here is some helpful info on sizing:
-SHOES: 11-12 in women's
-BRA: 38D or
-PANTIES: medium
-GARTER BELTS: medium
-SKIRTS/PANTS: Size 6-8 (tall if available)
-DRESSES: 6-8 (tall if available), large if stripperwear
-STOCKINGS: large/tall/opera length (but not plus size)
Legwear is ALWAYS a great present (especially 100% nylon or silk stockings, thigh high socks, etc.) as are shoes, slips and such. I'd also love to have a latex fetishist for a sugar daddy!